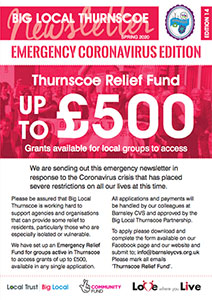 Emergency Coronavirus Edition
The Big Local Thurnscoe Spring 2020 Newsletter will be with you very soon. We are sending out this emergency newsletter in response to the Coronavirus crisis that has placed severe restrictions on all our lives at this time.
With 5000 copies distributed locally it's a great way of keeping up-to-date with what help is available to you and your family during this current situation.
It contains details of the new Big Local Thurnscoe Relief Fund and how to apply for a grant as well as useful information from BMBC as well as the following:
If you can't wait and you need help now, you can download your copy here »
Plus… here are a few extra online resources we couldn't fit in:
Family Information Service (FIS) »
Barnsley Safeguarding Children Partnership »
Mind Matters – Support for Individuals »
Please be assured that Big Local Thurnscoe is working hard to support agencies and organisations that can provide some relief to residents, particularly those who are especially isolated or vulnerable.